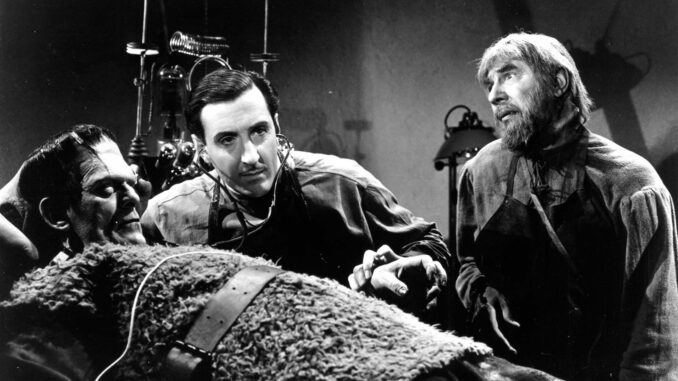 Son of Frankenstein 1939 sees the son of Dr Frankenstein returns to his father's castle and become embroiled in the family's dark legacy.
Release date: 13 January 1939
Director: Rowland V. Lee
Producer: Rowland V. Lee
Screenplay: Willis Cooper
Cinematographer: George Robinson

Cast: Basil Rathbone, Boris Karloff, Bela Lugosi, Lionel Atwill, Josephine Hutchinson, Donnie Dunagan, Emma Dunn, Edgar Norton, Perry Ivins, Lawrence Grant, Michael Mark, Lionel Belmore, Gustav von Seyffertitz, Lorimer Johnston, Tom Ricketts, Russ Powell, Caroline Cooke, Ward Bond, Harry Cording

Studio: Universal Pictures
Country: United States
Son of Frankenstein 1939 Review
Son of Frankenstein is a 1939 horror film directed by Rowland V. Lee and starring Basil Rathbone, Boris Karloff, and Bela Lugosi.
The film follows the son of the infamous Dr. Frankenstein, Baron Wolf von Frankenstein (Rathbone), as he returns to his ancestral home and becomes embroiled in the legacy of his father's experiments.
Rathbone delivers a strong and nuanced performance as the conflicted Baron, torn between his desire to redeem his family's name and his curiosity about his father's work.
Karloff delivers a memorable performance as the iconic monster, adding a sense of pathos and vulnerability to his character. Lugosi delivers a standout performance as Ygor, the deformed assistant of the late Dr. Frankenstein, adding a sense of menace and intrigue to the film's narrative.
Son of Frankenstein was the last time that Karloff would portray the iconic monster, ending his tenure as one of the most iconic figures in horror cinema.
Overall, Son of Frankenstein is a well-crafted and entertaining horror film that successfully builds upon the legacy of the original Frankenstein story. The film's strong performances, combined with its eerie atmosphere and innovative set design, make it a must-see for fans of classic horror cinema.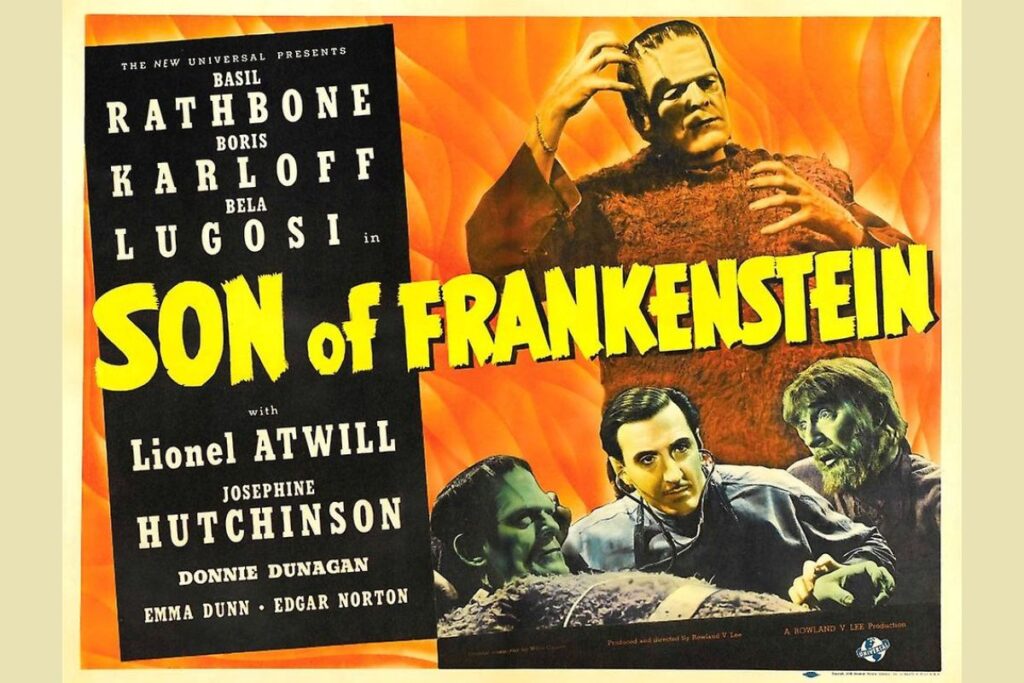 10 Things You Didn't Know About Son of Frankenstein 1939
Son of Frankenstein was written without a prepared script, which allowed the director to build up the role of Ygor for Bela Lugosi.
Shooting took place from November 1938 to January 1939, finishing just days before the scheduled release date of January 13.
Boris Karloff's daughter, Sara Karloff, was born on his 51st birthday during filming.
Plans were discussed to shoot the film in Technicolor but ultimately reverted to black and white.
Bela Lugosi was originally cast for a low fee, but the director wrote more dialogue for his character to ensure he was paid appropriately.
Boris Karloff's makeup for the monster took four hours to apply.
The film features the first appearance of the hunchbacked lab assistant Ygor, who has become an iconic part of the Frankenstein mythos.
Lionel Atwill's performance as the wooden-armed, dart-throwing police inspector inspired Kenneth Mars' comic turn in Mel Brooks' Young Frankenstein.
The film was part of the Universal horror series and its success led the studio to continue churning out Frankenstein, vampire, mummy and werewolf sequels throughout the next decade.
Son of Frankenstein was released on Friday the 13th of January 1939 to add to its "spook factor."
Watch Son of Frankenstein 1939 Trailer
Tell us what you thought of TITLE in the comments section below!