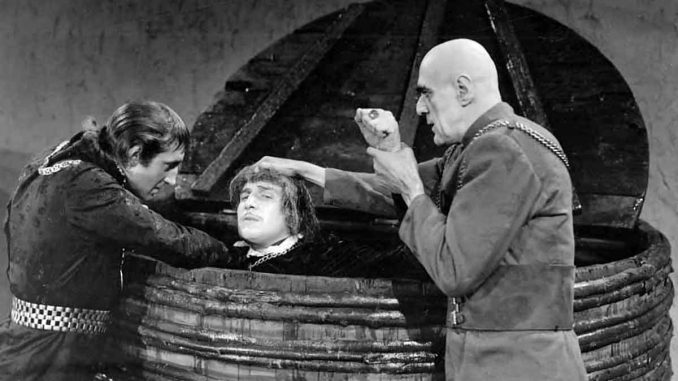 Tower of London 1939 tells the story of Richard III's rise to power and reign of terror, as he plots against his family and rivals for the throne.
Title: Tower of London
Release date: 17 November 1939
Director: Rowland V. Lee
Producer: Rowland V. Lee
Screenplay: Robert N. Lee
Cinematographer: George Robinson

Cast: Basil Rathbone, Boris Karloff, Barbara O'Neil, Ian Hunter, Vincent Price, Nan Grey, Ernest Cossart, John Sutton, Leo G. Carroll, Miles Mander, Lionel Belmore, Rose Hobart, Ronald Sinclair, John Herbert-Bond, Ralph Forbes, Frances Robinson, G.P. Huntley, Rodion Rathbone, Walter Tetley, Donnie Dunagan

Studio: Universal Pictures
Country: United States
Tower of London 1939 Review
Tower of London is a 1939 historical drama directed by Rowland V. Lee and starring Basil Rathbone, Boris Karloff, and Barbara O'Neil.
The film is loosely based on the historical events surrounding the reign of King Richard III and his rise to power through murder and treachery.
Rathbone delivers a commanding performance as Richard III, showcasing both his charisma and his ruthless ambition.
Karloff delivers a standout performance as Mord the executioner, adding a sense of pathos and depth to his character.
The film's exploration of themes such as power, corruption, and betrayal, combined with its impressive set design and costuming, create a sense of authenticity and grandeur that captures the atmosphere of medieval England.
Tower of London 1939 was one of several historical dramas produced by Universal Studios in the late 1930s and early 1940s, capitalizing on the popularity of swashbuckling adventure films.
Overall, Tower of London is a well-crafted and entertaining historical drama that showcases the talents of its cast and crew. Rathbone's performance, combined with Karloff's standout turn as Mord, make it a must-see for fans of classic cinema.
5 Things You Didn't Know About Tower of London 1939
Tower of London 1939 began its 36-day shoot schedule on 11 August 1939, with an original budget was $500,000. It was nearly $80,000 over budget when it was completed 4 September 1939. It was released on 17 November 1939.
Art director Jack Otterson recreated the Tower of London on the Universal Studios backlot, using historical records and original blueprints of the building.
Basil Rathbone and Vincent Price drank Coca Cola in place of wine in the famous drinking scene in the film.
Hans J. Salter originally used authentic period music as incidental music in the film. But after seeing the preview, studio heads demanded new music written. There wasn't enough time though, so an altered version of the theme from Son of Frankenstein 1939 was used.
The battles of Bosworth and Tewkesbury required 300 extras and were filmed in Tarzana, 20 miles north of Hollywood.
Tell us what you thought of Tower of London in the comments section below!