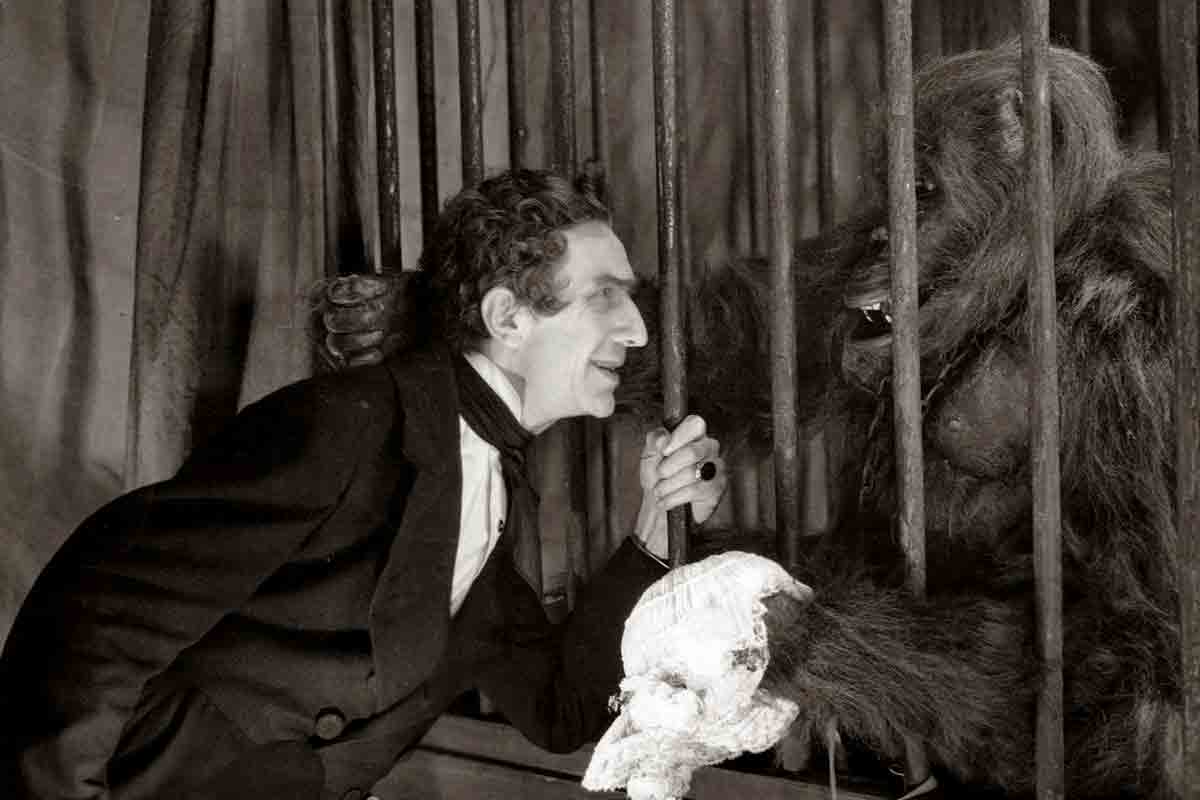 Murders in the Rue Morgue 1932 stars Bela Lugosi as a mad doctor who kidnaps and kills young Parisian women in an effort to crossbreed humans with apes!
Title: Murders in the Rue Morgue 1932
Release date: 10 February 1932 (RKO-Mayfair Theatre), 21 February 1932
Director: Robert Florey
Producer: Carl Laemmle Jr
Screenplay: Tom Reed, Dale Van Every, John Huston
Cinematographer: Karl Freund
Special Effects: John P. Fulton
Makeup: Jack Pierce

Cast: Bela Lugosi, Sidney Fox, Leon Ames, Bert Roach, Brandon Hurst, Noble Johnson, D'Arcy Corrigan

Studio: Universal Pictures
Country: United States
Murders in the Rue Morgue 1932 Review
Murders in the Rue Morgue 1932 owes far more to Das Cabinet of Dr Caligari 1919 than anything Edgar Allan Poe wrote.
This Univresal Horror film involves a sideshow performer Dr Mirakle (Bela Lugosi) using an ape to kidnap young women so he can perform medical experiments on them.
This is not much different to Dr Caligari getting his somnambulist Cesare to go off and nab victims in the 1919 German expressionist classic.
Despite its great look thanks to German cinematographer Karl Freud (Metropolis 1927, The Golem 1920 and The Head of Janus 1920), Murder in the Rue Morgue 1932 is missing something its contemporaries (Dracula, Frankenstein and The Mummy) had. I can't put my finger on it, but I don't get the same kind of chills watching it as I did with the other classic Universal horrors of the early 1930s. (The film's opening credits use the same "Swan Lake" Overture by Tchaikovsky as did Dracula and The Mummy.)
Maybe it's because Murder in the Rue Morgue 1932 had a troubled production and never really achieved its director Robert Florey's vision.
Murder in the Rue Morge 1931 was Florey as a consolation prize for not getting directing duties on Frankenstein 1931, had a budget of $130,000 but it was slashed to $90,000. It officially ended production on 13 November 1931, but when it became obvious that Universal had a smash hit with Frankenstein, they put it back into production on 10 December and increased its budget to $186,090. Leon Ames, who played Pierre Dupin, said director Robert Florey "wasn't happy on the picture, but he never talked about it … He didn't like the script, he wanted to fix it and they wouldn't let him".
The film is based on Edgar Allan Poe's "The Murders in the Rue Morgue" but only a few aspects of the 1841 short story remain. The only elements of it used in the film are the discovery of a dead body in a chimney and the discussion over which language the murderer spoke. Most was changed to create a vehicle for the newly-minted horror star Bela Lugosi, still riding high from his role in Dracula 1931.
But rather than solidify Lugosi as a star, Murder in the Rue Morgue may killed his career? Lugosi made several questionable decisions over the years – such as refusing the role of the monster in Frankenstein 1931. But Murders in the Rue Morgue 1932's poor box office may have had the top brass at Universal questioning whether the Dracula star was a one-hit wonder. They cancelled his contract after Murders in the Rue Morgue and Lugosi never drew on the star-power that Boris Karloff was able to wield when negotiating pay.
For me, the most memorable part of Murders in the Rue Morgue 1932 is Bela Lugosi's monobrow and watching the emoting chimpanzee which had been inserted as close up of a gorilla.
Maybe Murder in the Rue Morgue 1932 would have been a great film at any other time in history. But the giants of Universal horror (Dracula, Frankenstein, The Mummy, The Old Dark House, The Invisible Man, et al) in the early 1930s cast too much a shadow on it.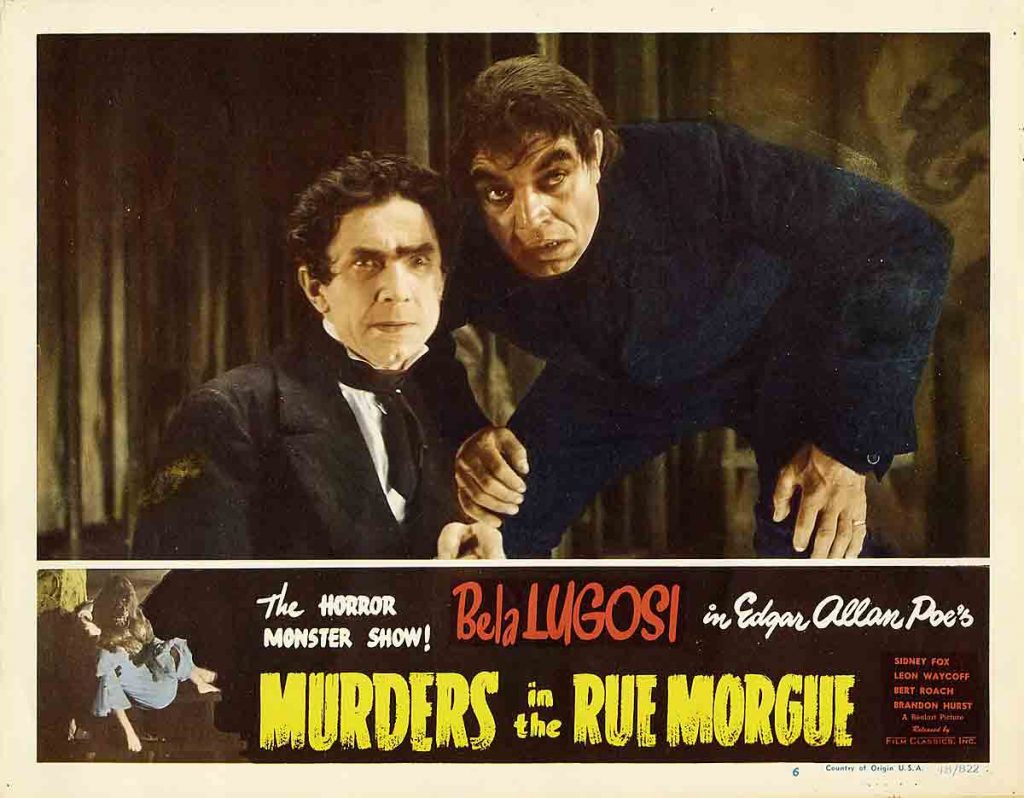 5 Things You Didn't Know About Murders in the Rue Morgue 1932
Murders in the Rue Morgue's running time was originally 80 minutes, but its many violent scenes saw Univeresal cut its running time to 61 minutes.
Leon Ames later reappeared in another Poe Story for Universal, Mystery of Marie Roget 1942. His original character of Pierre Dupin, was played by Patric Knowles and renamed Paul Dupin. The original character in Poe's short stories was C. Auguste Dupin.
You can see the caricature of Edgar Allan Poe among the pictures on Dupin's apartment in the film.
Bette Davis auditioned for the role of Camille, but producer Carl Laemmle Jr rejected her due to "lack of sex appeal".
George Melford, the director of the Spanish version of Dracula 1931, was originally slated to direct Murders in the Rue Morgue but was replaced with Robet Florey.
Murders in the Rue Morgue 1932 Trailer
Tell us what you thought of Murders in the Rue Morgue 1932 in the comments section below!