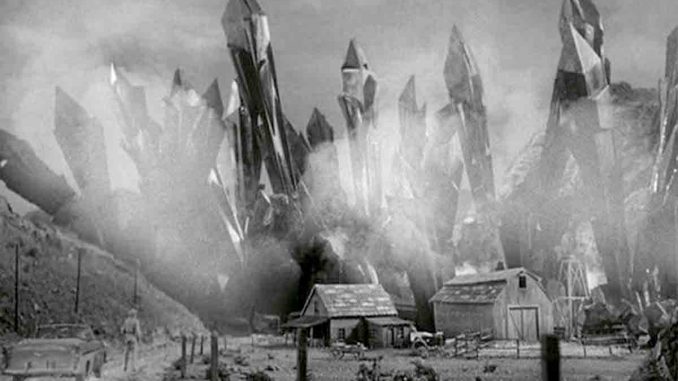 The Monolith Monsters 1958
Release date: 18 December 1957
Director: John Sherwood
Cast: Grant Williams, Lola Albright, Les Tremayne, Trevor Bardette, Phil Harvey, William Flaherty, Harry Jackson, Richard H. Cutting, Linda Scheley, Claudia Bryar, Dean Cromer, Steve Darrell, William Schallert, Troy Donahue, Paul Petersen, Paul Frees
Studio: Universal Pictures
Country: United States
The Monolith Monsters 1958 Review
Coming soon!
5 Things You Didn't Know About The Monolith Monsters 1958
The meteor crash seen in the film was taken from footage from Universal's 1953 sci-fi hit, It Came from Outer Space.
The Monolith Monsters was filmed mostly in the Alabama Hills in Lone Pine, California. That area has also been seen in classic films such as Gladiator, How The West Was Won and The Charge of the Light Brigade.
The film's special effects were created by Clifford Stine, who started his career with King Kong 1933.
Scenes from The Monolith Monsters have been used in They Live 1988 and Independence Day 1996.
The film's "California Medical Research Institute" is the same fictional facility that also appears in The Incredible Shrinking Man 1957.
The Monolith Monsters 1958 Trailer
Tell us what you thought of The Monolith Monsters 1958 in the comments section below!