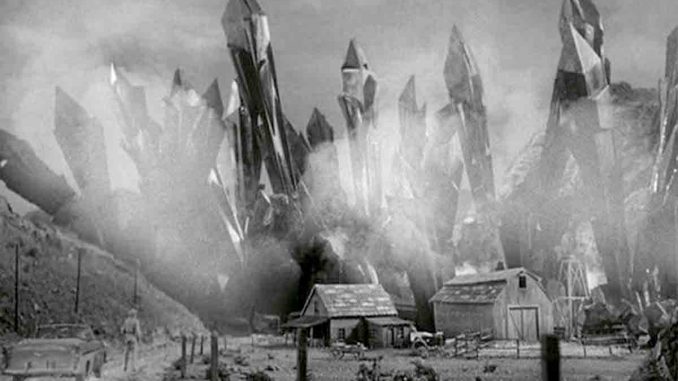 The Monolith Monsters 1958 depicts a small desert town's struggle against mysterious alien rocks that absorb water and grow into towering, deadly monoliths that threaten to destroy everything in their path.
Release date: 18 December 1957
Director: John Sherwood

Cast: Grant Williams, Lola Albright, Les Tremayne, Trevor Bardette, Phil Harvey, William Flaherty, Harry Jackson, Richard H. Cutting, Linda Scheley, Claudia Bryar, Dean Cromer, Steve Darrell, William Schallert, Troy Donahue, Paul Petersen, Paul Frees

Studio: Universal Pictures
Country: United States
The Monolith Monsters 1958 Review
The Monolith Monsters is a 1958 science-fiction film directed by John Sherwood and starring Grant Williams, Lola Albright, and Les Tremayne.
The film follows a small California town that becomes threatened by mysterious alien rocks that turn anyone who touches them into stone.
Williams delivers a solid performance as the lead scientist, adding a sense of urgency and curiosity to the film's narrative.
Albright and Tremayne also deliver strong performances as the female lead and the town's sheriff, respectively.
The film's impressive special effects, particularly in its portrayal of the alien rocks and their effects on people and objects, create a sense of wonder and horror, with the added benefit of featuring several impressive cinematography techniques.
One interesting fact is that The Monolith Monsters was one of the first films to use the concept of an extraterrestrial substance with transformative powers, a trope that would go on to become a common theme in science-fiction cinema.
Overall, The Monolith Monsters is a well-crafted and entertaining science-fiction horror film that successfully combines elements of drama and suspense.
Its impressive special effects and solid performances make it a must-see for fans of classic monster movies.
5 Things You Didn't Know About The Monolith Monsters 1958
The meteor crash seen in the film was taken from footage from Universal's 1953 sci-fi hit, It Came from Outer Space.
The Monolith Monsters was filmed mostly in the Alabama Hills in Lone Pine, California. That area has also been seen in classic films such as Gladiator, How The West Was Won and The Charge of the Light Brigade.
The film's special effects were created by Clifford Stine, who started his career with King Kong 1933.
Scenes from The Monolith Monsters have been used in They Live 1988 and Independence Day 1996.
The film's "California Medical Research Institute" is the same fictional facility that also appears in The Incredible Shrinking Man 1957.
The Monolith Monsters 1958 Trailer
Tell us what you thought of The Monolith Monsters 1958 in the comments section below!